Today, Chandigarh received the much-awaited heavy monsoon rain that drenched every nook and corner of the tricity in the morning hours. The heavy lashes was a much-needed respite from the hot humid weather of the city beautiful. Though after being predicted by the meteorological department many times last week, the rain in Chandigarh gave a miss to the people within the city and the nearby areas.
Monsoon effects on Chandigarh
Amid the heavy downpour, Chandigarh city witnessed several areas with waterlogs and maddening traffic jams. Especially the roundabouts on the Madhya Marg near traffic lights could move really slowly due to the jam. The Chandigarh roads going towards Panchkula and Ambala were submerged in rain water up to knee length due to the bad drainage system.
Here is how people of Chandigarh enjoyed in rain
However, where many people were struggling with heavy lashes of rain during their office and college hours in the morning today, half of the Chandigarhians had the smile on their faces. Irrespective of the age, people were seen on the roads of Chandigarh enjoying in rain after getting some respite from the humidity of the monsoon season.
Here we have some pictures of the people enjoying and getting drenched in monsoon rain in Chandigarh that looks soothing to the eyes as well.
Here are the two girls enjoying in the rain while others waiting for the rain to stop under the tree in the background.
The two Chandigarh gabrus were captured talking while getting drenched in rain on their four wheeler on the Gedi route.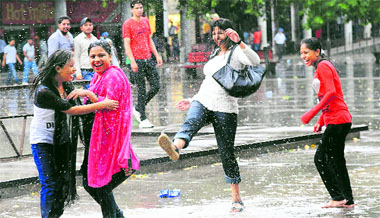 This was the colourful scene of Chandigarh's very famous Sector 17 Plaza where girls were having fun and frolic in the rain.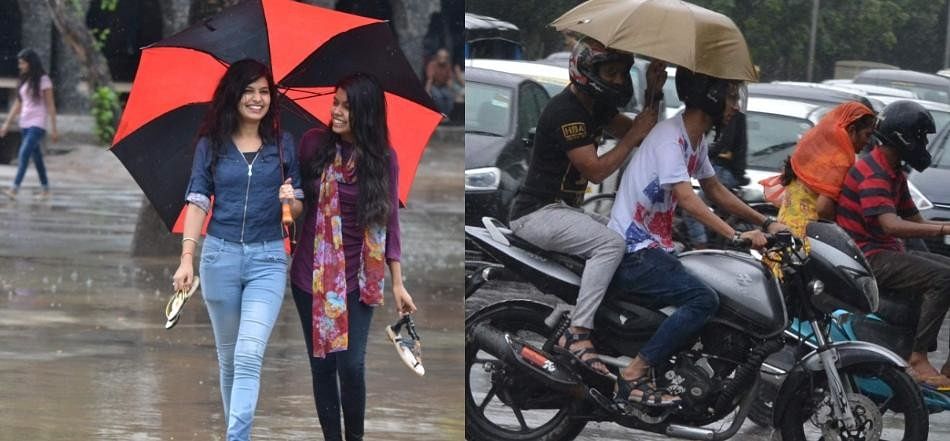 Yet another beautiful picture of Chandigarh where people were seen sharing umbrellas with their friends and having good times in the monsoon rain.
Chandigarh says: "rain rain come again another day" 
We hope Chandigarh receives such more rains in the coming days of the monsoon month so that people in and around the tricity may feel some relief from the hot and sweltry weather. But waterlogging and laid back traffic jams need effective measures to be taken for the smooth administration within Chandigarh and nearby areas during the rainy season.
Comments