AT Golden Temple Amritsar – SGPC decides to take off the hi-tech flashy LED lights from the walls of Guruswara in response to the objections from devotees. With the ongoing objections of all the devotees of the world famous religious attraction of Amritsar "Golden Temple" , finally SGPC has announced the suspension of these hi-tech LED lights from the divine walls of Golden Temple.
According to the sources: SGPC officials said that the pilgrims had come up with the objection on the flashy lights of Golden Temple saying that the optical effects were not in keeping for the sanctity of the shrine. As the lights were installed on the trial basis only, they are now planned to be removed.
Plans of SGPC with The Golden Temple, Amritsar
According to the SGPC officials, implementation of the LED lights was carried out on trial basis and still there are different colour patterns that are under process. The Project has come up to the near completion and is aimed to be launched on 20th of July. Under the 13 crore project, there are 1700 LED lights that are processed to be installed at multiple locations in Amritsar including the holy shrines Akal Takht, Darshni Deori, Bungas and several other entry points through plaza.
Details about the 1700 LED plan for Amritsar
As per the new project funding 1 crores, SGPC is installing 1700 LEDs throughout the Amritsar including several entry points through plaza and shrines including Akal Takht, Darshni Deori and Bungas. It has been assumed that all these LED lights are going to put the total power load of less than 10 Kilowatt. Also, it has been said that the color, intensity and frequency of these lights is simply controlled by a single click.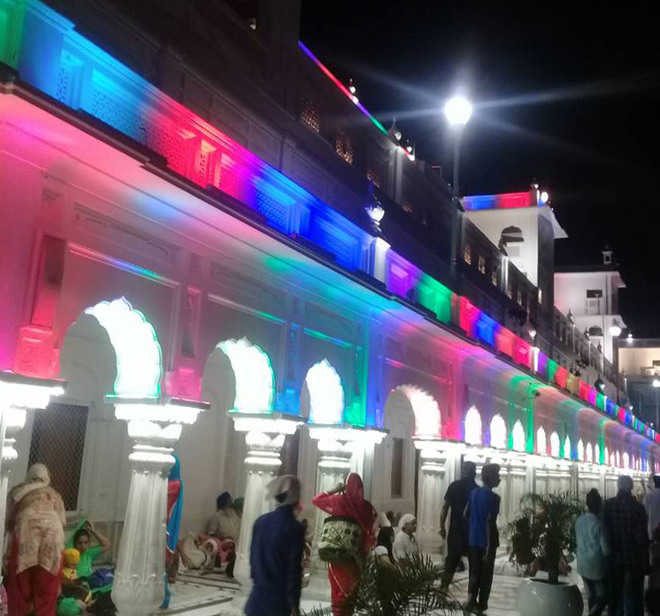 This technology is imported by from Germany and Italy. Still there are many people who are not finding this project worthy of the ambience of the spiritual aura of the city and, the project is considered as wasteful expenditure by many scholars.
Also, according to the Sikh Tenets, it is come up as a disagreement as their religious place, Amritsar is getting turned into one of the tourist places in India.
Source & Image =  Tribune India
Comments