Shopping is something that everyone loves to do in their free time and Ludhiana being the hub of industries and textile, is the best-suited place for malls and multiplexes. There are quite a number of malls in Ludhiana but to make it easy for you, we have listed the top 10 most visited shopping malls of Ludhiana that are a great centre to enjoy shopping, getting entertained and to dine in.
Shopping Malls in Ludhiana
Scroll down to find out the best 10 shopping malls of Ludhiana.
MBD Mall | Ludhiana 
MBD Mall is one of the best shopping malls in Ludhiana that offers a perfect blend of shopping and entertainment, under one roof. Housed with almost every retail brands, including women's wear, men's wear, kid's wear, home and lifestyle, footwear, cosmetics and accessories and much more, the mall has a separate area for kids with facilities like games, rides etc.
Address: Rajguru Nagar, Ferozepur Road, Ludhiana, Punjab
Silver Arc Mall in Ludhiana 
When we talk about the best shopping malls of Ludhiana, then, Silver Arc Mall is the place where every shopper would love to hang out. It is one of the highly visited malls of the city with a huge collection of clothing & lifestyle brands, restaurants and food court, multiplex and games area for one and all. One can choose from the wide range of options and choices available at one destination. People mostly throng to this mall to watch movies at PVR cinemas.
Address: Gurdev Nagar, Ludhiana, Punjab
Westend Mall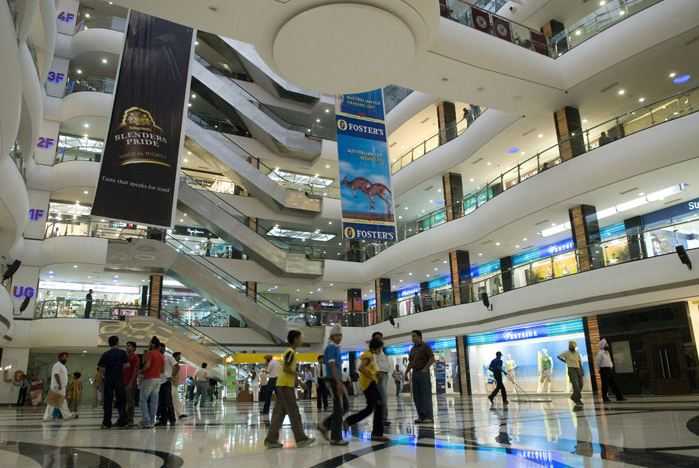 House of Waves Cinemas multiplex, Westend Mall is in the list of best 10 shopping malls based in Ludhiana. It is amongst the high-end malls of Ludhiana that offers best shopping experience along with entertainment to the visitors. It has a huge food court with myriad varieties of eating joints and is frequently visited by movie buff to watch out some movies at its multiplex.
Address: Ferozpur Road, Bhai Randhir Singh Nagar, Ludhiana, Punjab
The Pavilion Mall
This shopping mall located in Ludhiana, The Pavilion Mall is the most thronged shopping mall of Ludhiana. With the close proximity to the residential and commercial properties, this mall is easily accessible by all. You will find the sublets both domestic and international designer brands at affordable prices.
Address: B-I-1258, Kailash Cinema Rd, Civil Lines, Ludhiana, Punjab
Grand Walk Mall
Come for shopping and full-time entertainment at Grand Walk Mall based out in Ludhiana. This one-stop retail destination that provides visitors with various options to shell out their money for. One can spend a great quality time here at this full family entertainment centre. This shopping mall is so far the best destination for shopping in Ludhiana.
Address: Ferozpur Rd, Aggar Nagar – B Block, Lalbagh, Ludhiana, Punjab
Ansal Plaza, Ludhiana 
One of the oldest shopping malls- based in Ludhiana is Ansal Plaza. The complex Ansal Plaza is a perfect joint to buy clothes, footwear, home and lifestyle products along with cosmetics and accessories. The USP of this mall in Ludhiana is its 24 hours operations unlike others in the city.
Address: Opp. Circuit House, Ferozpur Road, Gurdev Nagar, Ludhiana, Punjab
JMD Goverdhan City Centre | Ludhiana 
Located in Ludhiana, JMD Goverdhan City Centre shopping mall is one that one can choose from myriad retail, F&B, and entertainment brands with state-of- art facilities. Also, enjoy cinema multiplex that is attracted by many local and tourists shoppers.
Address: Railway Station Rd, Near Railway Station, Tyre Market, Clock Tower, Railway Employees Colony, Old Ludhiana.
Globe Mall, Ludhiana
On the GT road of Ludhiana, is situated another shopping mall called Globe mall. This is best-suited places to hang out with friends and family as all the retail space is occupied by the best Indian and foreign brands across sectors. Some also call it a shoppers' paradise in Ludhiana.
Address: Jaimal Singh Road, Janta Nagar Chowk, Janta Nagar Chowk, Ludhiana, Punjab
Gold Souk Grande
As the name suggests, Gold Souk Grande is one of the unique and best shopping malls situated in Ludhiana. People throng to this place to buy jewellery or clothing or any other thing at reasonable prices. This is one of the most sorted shopping destinations for the people putting up in Chandigarh, Ambala and Amritsar.
 Address: Hussainpura, Punjab 
Ludhiana Mega Mart
Ludhiana Mega Mart is among the most visited shopping malls of Ludhiana that caters to the daily needs of the people along with fashion labels at the dearth cheap prices. This visually sound shopping mall of Ludhiana city is the most renowned places for hangout of all the age groups for shopping, food, and entertainment.
Address: 2435, Maharaj Nagar, Euphoria Tower, enthrallsFerozpur Road, Ludhiana, Punjab
We, hope that reading this blog will educate you about the 10 most visited shopping malls in Ludhienthralsshoppers, buyers, food and entertainment lovers.
Also read
Ludhiana – Delhi Daily Flight by Air Deccan (Time, Fare & Other Details)
Comments