Regardless of December generally being a weak month for car sales, the Maruti Suzuki Dzire has beaten the chances to rise as the top of the line of best-selling cars in India. The Maruti Suzuki Dzire once again beat the Alto hatchback in sales for the month of December 2017. Maruti Suzuki dispatched 21,145 units of the Maruti Suzuki Dzire in December 2017, contrasted with 20,346 dispatches for the Maruti Suzuki Alto. The Dzire is additionally neck and neck with the Alto as far as the most number of sales for the whole year of 2017. Maruti Suzuki sold 257,732 units Alto in 2017, the Dzire ran a nearby second, with the sale of 225,043 units.
Maruti Suzuki Dzire
Maruti Suzuki Dzire is available in Market in 14 different variants with price starting from Rs.5.53 lakhs. The base model is Maruti Suzuki Dzire LXI. It comes with a 1197cc petrol engine with Manual Transmission. Maruti Suzuki Dzire comes in two transmission variants – Manual and Automatic.
The manual transmission variant starts from Rs.5.53 lakh which is the base model of Dzire. The automatic variant of Dzire 2017 starts from Rs.6.88 lakhs. There are total 6 variants of Maruti Suzuki Dzire out of 14 that comes with Automatic transmission. The top model of Maruti Suzuki Dzire is the ZDI Plus AMT and it comes with a 1248cc Diesel engine.
Petrol Manual Transmission variant of Dzire gives a mileage of 22 Kmpl, Petrol Automatic variant of Dzire gives a mileage of 22 Kmpl, Diesel Manual Transmission variant of Dzire gives a mileage of 28.4 Kmpl while the Automatic transmission variant also gives the same.
Maruti Suzuki Alto
Maruti Suzuki Alto comes in Two variants – Alto 800 & Alto K10. Maruti Suzuki Alto 800 has 10 variants and the base model of the car is Alto STD. The price of Alto STD is Rs.2.64 lakhs. However, the topmost variant is priced at 3.48 lakh. The car additionally has a CNG variant too. The price of Alto CNG variant is 3.83 lakhs. Alto CNG variant gives a mileage of 333.44 km/kg and petrol variant of Alto 800 gives a mileage of 24.7 Kmpl.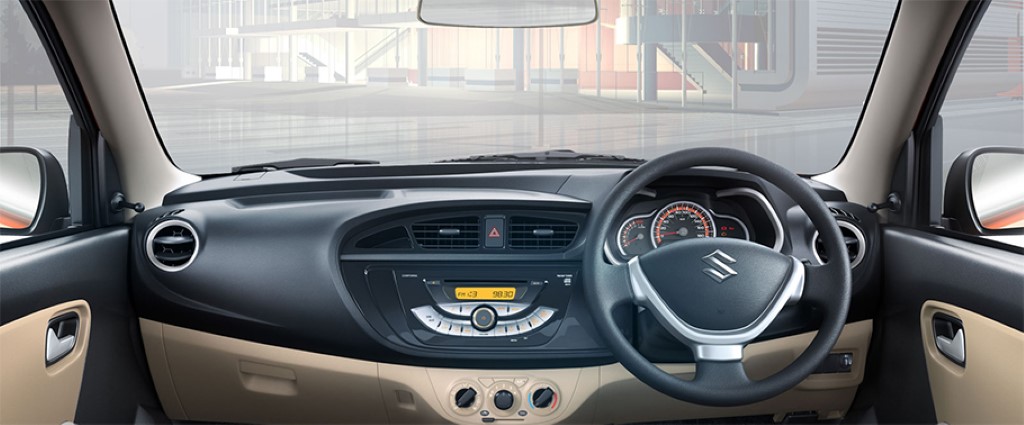 Alto K10 comes in 10 variants. The base model of Alto K10 starts from Rs.3.43 Lakhs. It comes with a 998cc petrol engine. The Price of Automatic Variant of K10 is Rs.4.28 Lakhs. The Automatic variant of K10 comes with Airbags. There is also a CNG Variant of K10 and the price is Rs,4.28 lakhs. The CNG variant of K10 gives a mileage of 32.26 km/kg and Petrol and automatic and manual gives a mileage of 24.07 Kmpl.
Source – Cartoq
Comments