Amid high alert and tight security, the Wednesday morning began with the influx of more Dera Sacha Sauda followers to Panchkula from all across Punjab and Haryana states. By far, over 1 lakh followers of Dera Sachha Sauda Chief, Gurmeet Ram Rahim Sacha Sauda have assembled at the Naam Charcha Ghar in Sector 23, Panchkula with an intent to stage protest if the special CBI court in the district will pronounce the final verdict on August 25, against the Godman and Dera Chief for the rape case, he is accused of.
Dera Sach Sauda followers reached Panchkula 
Dera followers, loaded in trucks, lorries, tractors, and buses are coming in large number to Panchkula in support of Gurmeet Ram Rahim. In fact, they are not hesitant of the rainy or hot-humid weather and even are seen lying on the pedestrian path along the road sides and in the parks of all the southern sectors of Panchkula. Other than this, a well-designated spot for assembling at the sector 23, Naam Charcha Ghar has made all the arrangements for the Dera followers with tents and food.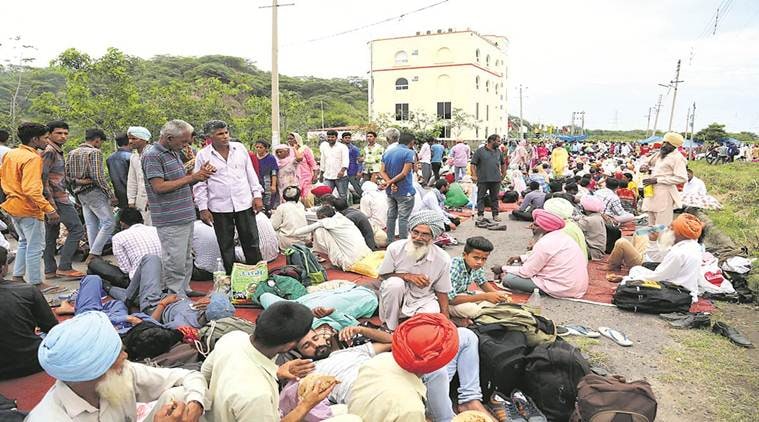 Tension like situation in Panchkula
Apart from this, the borders of the Panchkula district with state highways have been barricaded by the police. The entire Sector 1 and 2 have been beefed up with high security and platoons of state police and paramilitary forces for maintaining law and order. The entry from the Majri Chowk near Nada Sahib to Panchkula sector 1 and old Panchkula Chowk and sealed by the state police.
Places that will remain closed in Panchkula on Aug 25
Fearing of abatement of law and order in Chandigarh, Panchkula, and Mohali, the Panchkula District Courts Bar Association has shut down their work in the Panchkula district court from August 23 to 25. Section 144 has been enforced in the Tricity and the state government of Punjab and Haryana has urged the Dera followers to extend their support and don't become miscreants. To maintain the law and order in the Tricity the state government of Punjab and Haryana have together deployed over 150 companies of State Police and paramilitary forces who are on their toes 24*7 to protect any happenings of hooliganism within the Tricity.
Apart from this, public conveyance including bus and auto services have also got affected due to the tension prevailing in Chandigarh, Panchkula, and Mohali. Schools and colleges of Panchkula are ordered to remain closed on August 23, 24 & 25.
Source: tribuneindia.com
Comments