There is a good news for Samsung lovers: The new Samsung Galaxy Tab S3 hits the Indian market this Tuesday, after its first official launch at MWC 2017 in WiFi and LTE variants.
With the remarkable history of creating magnificent mobile gadgets, Samsung has now come up with the elegant and stylish Samsung Galaxy Tab S3 along with the Galaxy book. Already selling in selected countries, this Tuesday, at an event held in Bengaluru, Samsung launched this beautiful Tablet S3 in India, for the very first time. This stunning lightweight device with the 9.7-inch Super AMOLED and 6mm thin metal frame is so far known as the best productivity focused designs by Samsung. This device is now available at all the prominent retail stores in India. Also, you can grab this extraordinary Samsung Galaxy Tab S3 online at Samsung India Site.
Highlights of Samsung Tab S3
Designed to give Apple's iPad Pro a good competition, this Galaxy Tab S3 by Samsung is designed with many similar features, like similar screen size, fingerprint sensor, 3.5mm jack and stereo speaker.
Being extremely stylish and elegant, this Samsung Galaxy Tab S3, available in Black and Silver colours, is also known for its new glass design and 0.7mm tip with 4096 pressured levels of S Pen Stylus. Samsung has designed this tablet with the features like HDR playback capabilities, quad-speaker system tuned by AKG and keyboard support to enhance the performance of the device. This is not all, now you can enjoy the battery life lasting up to 12 hours with this new 6000mAh battery onboard in this device.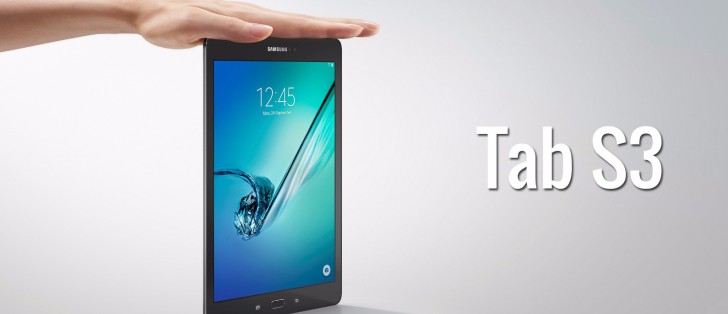 Other specifications of Samsung Galaxy Tab S3 (India)
Beautiful Glass Back similar to all premium Samsung mobile models
Resolution of 1536 X 2048 pixels
Samsung's Galaxy Tab S3 runs on Android Nougat Operating System
Fingerprint is placed right in the home button for ease
32 GB internal storage and 256GB extendable storage via microSD card
USB-C port that was absent in its predecessor Samsung Galaxy Tab S2
S3 Galaxy Tab by Samsung has 13MP rear-camera with flash and 5MP front camera.
Connectivity options: Bluetooth 4.2, GPS, USB Type-C, WiFi and 4G LTE
Samsung Galaxy Tab S3 – Price in India
This brilliant design by Samsung is now available in Indian retail stores for Rs. 47,990 for LTE variant (WiFi variant not launched yet in India). This device comes with two colour variant options that are Black and Silver. Also, you can grab the book cover at just Rs. 2999 and keyboard cover at Rs. 8499.
Special Launch Offers
Partnered with the Reliance Jio, as a launch offer, Samsung Galaxy Tab S3 comes with an offer of 28GB + 28 GB per month at Rs. 309 valid till December 31st. Also as a launch offer, Samsung is offering one-time screen replacement just at Rs. 990 for those who buy before July 31st, from 12 months of purchase.
Don't miss and buy this amazing Android Samsung Galaxy Tab S3 today.
Comments