Bollywood's flying jat, Tiger Shroff is all set to flaunt his hot body on the cover of GQ Magazine this month. Yes, you read it right! The actor, Tiger Shroff has gone shirtless for the shoot the picture of the latest edition of the GQ India cover story. He will be the first actor of the Indian origin to bare his chest on the cover of the GQ magazine.
Indian actor, Tiger Shroff is in his bare minimums and is posing for the cover shoot in a way to showcase his chiseled face and well-toned body. His six pack abs fetched Tiger this opportunity to be featured on the cover of the GQ Magazine.
Actors on GQ Magazine Cover & Tiger Shroff
This might be the first time that you see Tiger Shroff bare-chested. Earlier, many other Bollywood guys including Shahrukh Khan, Amir Khan, Saif Ali Khan, John Abraham, Akshay Kumar, Hrithik Roshan, Ranbir Kapoor, Ranveer Singh, Shahid Kapoor, Farhan Akhtar, Ajay Devgun, Arjun Kapoor, Siddhartha Malhotra, Nawazuddin Siddiqui, Abhay Deol and others have come on the cover of GQ Magazine many times before.
They were all featured in a well fitted tuxedos and business suits but Tiger Shroff will be the first one to go shirtless and do a care free and high spirited guy on the beach photo shoot for the GQ India Magazine.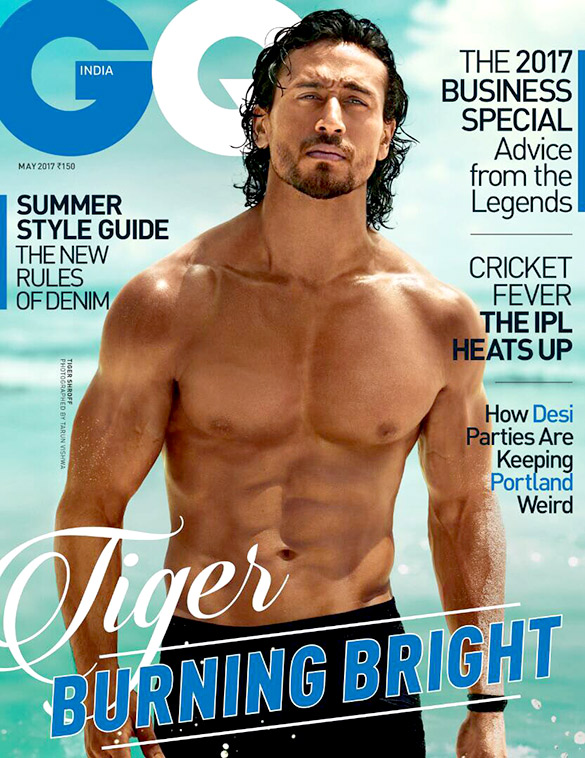 The images of Tiger Shroff on the cover of the GQ India magazine has already set the temperature soaring high amongst his fans even before the magazine is out on stands. In fact an official video of the photo shoot held at the pristine white beaches of Maldives has been released by the GQ Magazine.
In the video, actor Tiger Shroff is seen flexing his muscles while swimming and diving into the ocean. You can even check out Tiger Shroff's video of photo shoot in Maldives that has appeared on the cover of GQ magazine on the official twitter page of Tiger Shroff.
GQ (Gentlemen's Quarterly) Magazine is of the leading international men's fashion and lifestyle magazines that is published globally. It is a monthly magazine based out in the New York. By far GQ has covered top notch politicians and Hollywood- Bollywood Celebrities.
Source: gqindia.com
Other popular posts:
Justin Bieber Returned Canada with Plenty of Gifts | Here's What He Took Along
Comments