When it comes to fashion in Chandigarh, people head towards to big brands and showrooms but there are some places that will provide you fashionable stuff under 2000 rupees. Apart from showrooms, here we bring to you those amazing shops that will offer some great stuff and are pocket-friendly too. Along with big showrooms, fashionable clothing and footwear can also be purchased in the rehri markets of Chandigarh, that will not even cost you as more as the brands.
If you are planning for shopping in affordable cost, then these are some places in Chandigarh where you must go.
Rehri Markets of Chandigarh
Here are the list of some rehri markets in Chandigarh, where you can shop for just Rs. 2000 in the city.
Sector 22 (Shastri Market)
When it comes to shopping in the city, Chandigarhian head towards Sector 22 which is one of the best places in the city that has great stuff in affordable cost. Sector 22 market is popularly known as Shastri market that offers everything for girls and boys according to the trend. One can get western as well as traditional clothes that suit your personality. From clothing to footwear, accessories to inner wear all the stuff can be bought from here between 10 AM to 10 PM. And if you are tired of day long shopping, then do try the golgappas and bhelpuri there.
Palika Bazaar (Sector 19)
Another option for shopping in Chandigarh when you have a budget of Rs 2000 is Sector 19 Palika Bazaar. It is the second most crowded market in the city, from where thousands of Chandigarhians do there shopping and all. Be it trendy clothes or footwear or some other stuff, Palika Bazaar Chandigarh offers all in just one stop. Food lovers can also enjoy the tasty street foods available in and nearby the place.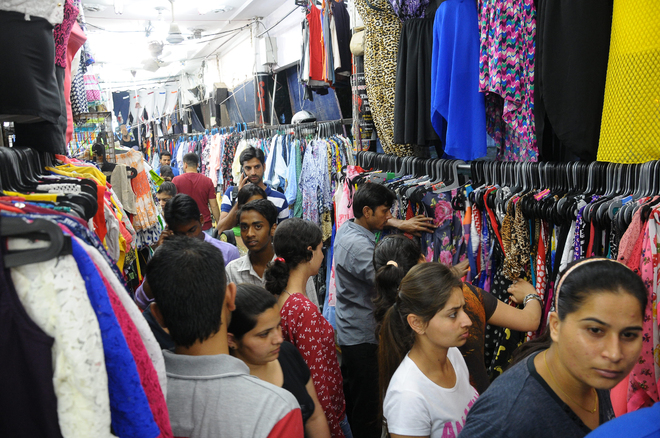 Sadar Bazaar
One of the cheapest markets of Chandigarh with amazing stuff is Sadar Bazaar that has been located in Sector 19 C. Be it, boy or girl Sadar Bazaar has something for everyone in the city. Clothing or footwear, accessories or gifts one can collect all of these in just Rs 2000 from the Sadar Bazaar of Chandigarh. Do not forget to bargain upon the stuff you are taking from this place. And if you are here just don't miss the mouth-watering golgappas near the market. From 9 am to 9 pm, you can shop on for your things here.
Krishna Market, Sector 41
Sector 41 located Krishna Market will be another place of the city which you can add to your shopping list. This place will offer unique stuff that will surely catch your eye. Along with youngsters, it also captures the eye of all age groups from kids to old age people. Traditional wear of Krishna market is just unbeatable as compared to other markets of the city.
Sector 15, Patel Market
Located in the student hub of the city, Sector 15 market cater all the young crowd. As University is nearby to this sector, thus it has a large accommodation facility. The market is mostly famous for the student because it provides all that stuff which are in trend in the University like handbags, clothes, shoes and much more. Patel market is not that famous in adults, but one can surely visit the place to try out some delicious momos in the city.
So if you are out for shopping in Chandigarh then do check out these places which will never let you down in any sense.
Also, Check Out:
7 Traits of Chandigarh Diyan Kudiyan That Are True To The Core
Comments